It is hard to survive when your brain is always at war with itself.
For as long as I can remember I have always tried to fit in, to be normal; to be liked by everyone and to never cause a fuss. I have this constant fear in my mind that I will never be normal. That no one ever likes me really, that I just seem to exist. It's hard because I have some of the most incredible friends and family in the world and sometimes it STILL feels like the whole world is against me. It is hard to explain to someone who doesn't have anxiety what it's like to live in constant fear. It is difficult to explain that a simple walk to the canteen fills me with dread. If you ask me why it does, I know my answers are illogical, but it doesn't stop the fear from consuming me.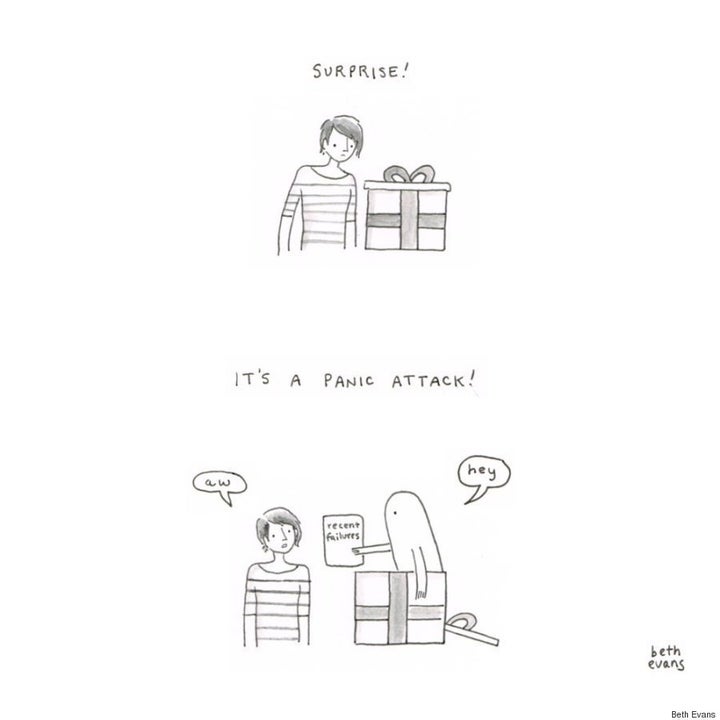 When I was in my teens at maybe 15, my school sent me to some group therapy for self esteem issues, but all it did was make things slightly worse. It was hard to sit in a room and listen to people who seemed to have real issues that were worse than mine. I dismissed myself having poor mental health after this time as I felt I had no reason. When I reached sixth form the GP put me on beta blockers to deal with exam 'stress'. I think that was when my panic attacks became most apparent. That things in my head were not as normal as I had tried to make myself believe. For the remainder of my sixth form education I tried to dismiss things that were in my head. How could anything be wrong when I have the most amazing family who love and support me? It wasn't till I came to university that I realised that just because my life seemed amazing, didn't mean that things in my head were always amazing.
My anxiety controls me some days. It will tell me that my world is falling apart and even when I know that things are okay, my brain still tricks itself. It always comes at what feels like stupid times: when I am at dinner, when I am walking to my friends or when I am watching tv. What could possibly be wrong when I am watching TV? As I write this now I know that these things should be fine but sometimes they are not. Sometimes I just have to ride the wave of the anxiety and hope I am feeling better. I find it hard to cancel plans, and when I do I will sit and overthink about what I am missing out on, making my anxiety worse. So sometimes I will force myself to do things and then regret it. It is hard to find the balance of pushing myself and breaking myself. Thanks to some therapy, I learnt some tricks to deal with the stress of life, but it can be very impossible some days to apply the logical things.
I find life very difficult to process. I hate change and regularly obsess over decisions that will impact my life. I have to discuss problems over and over again before my brain can make sense of things. It can lead people to get bored of me but it's hard to figure things out when you don't always trust your brain. For instance, it is incredibly hard to decide if texting a boy back is the right decision, it seems trivial but sometimes small things like this will consume me. I just want to be loved and so texting a boy back I like may seem small but also I'm scared that if I go wrong I'll be left with rejection. For bigger problems I have rang my parents way too many times, craving for them to make the decision for me. Big decisions scare me. The pressure that the choice I will pick will be wrong consumes me and leads me to shut down. I crave other people's opinions on decisions in hopes they will solve the problems for me. Which I know they can't. It's hard when you are so fearful of your mind sometimes to pick an option. I know that if the option I pick is wrong, I will beat myself up about it for ages and freak out more when making another decision. I am trying to get to grips with everything happens for a reason, but in the moment if I can't see the reason I just assume its been the wrong decision.
My anxiety has and will sometimes kill friendships/relationships. I fixate on what others think of me, I get obsessed with situations and want to be loved by those I love. My brain needs reassurance in some form that I am loved and cared about, when I don't get that my brain freaks out. Deep down I know that all my friends love and care for me deeply, but some nights my brain manages to convince itself that they don't. It is incredibly difficult to explain to people that while I know they care about me, sometimes my mind clouds that and I just need them to tell me or show me they do a little more. What I have struggled with is the fear that my friends will get bored of constant reassurance. It is hard because some friends just don't get it. Which is fine, how can they understand that my brain convinces itself that everyone hates me. I know that sometimes they get sick of having to check that everything's okay, so I will try to shut myself away. I am incredibly fortunate that some of my friends notice and will love me a little extra. I find it hard when friendships don't work out how I have overthought them to.
I struggle to let go of friendships that are no longer healthy because I feel like there is something wrong with me. I blame myself and worry that just because this one friendship hasn't worked out, that all my other friendships will fail too. So, even when I am being treated poorly I will still force myself to love them and hope things change. I am aware this isn't healthy behaviour, but it is hard to change a stance I have had on friendship for 10 years. I recently discussed with my therapist that when I was in school I didn't have many friends, or many good friends, so sometimes having good friends worries me. I am not sure how to be a good friend back, I am not sure why I suddenly deserve friends that love me. It sounds silly that my brain worries about having good friends, but I spent so long hoping to have friends who cared and it is scary to think I could lose them. I learnt to say thank you instead of sorry and it really is a much healthier mindset. I used to think I had to apologise for the way I was feeling but my friends have taught me that some of these thoughts are normal and I shouldn't be ashamed of them. So this paragraph is finishing with a shout out to my TFL girls, Jade, Lucy and all my other incredibly wonderful friends. I am a mess but thank you for always loving me. Thank you for knowing the right things to say and for holding me a little extra when you don't. Thanks for understanding that sometimes I find life extra challenging, but you take me under all your wings and walk me to dinner or take me home from the clubs. Thank you for helping me answer phone calls and knowing I will never ring unless I am really struggling. Thank you for accepting that I have to be ridiculously early for events and never ever late. I truly didn't think I deserved friends who loved me this much.
University culture is drinking, and sometimes that is the worst thing for me. Firstly, I panic that a group of people will judge me. Secondly, alcohol controls how you think and can lead my brain to freak out over unnecessary things. The constant battle at the minute is wanting to go out in case I miss out on things but also sometimes going out and getting too overwhelmed. I don't want to go deep into this point, simply because I don't really understand it myself, all I know is that this February I am limiting the intake in hopes it will save some of my sanity.
I could write a hell of a lot more about my anxiety but this post is already very long. Instead I will finish this section with some small points I missed. My brain sometimes fears the silence and so some weeks I keep myself very busy. I always try to do best by myself and by others. Life is challenging and everyday is a new battle. 
I can be hard to love but I promise loving me is worth it. 
My January review, January is always a hard month. It is the start of the year and I fill myself with constant pressure to make it perfect. This January has been far from it. There has been many tears, breakdowns and heartache, but there has also been a lot of joy too. I am determine to tackle my fears head on, and as I write this, even though I was incredibly anxious I managed to go to the SU today and still have a good time. 
January's key events.
On the 6th of January my lovely mum dropped me back to uni. We went to Bills for our favourite breakfast. I miss family a lot when away but I know they are only a phone call away.
When my exams were finished I went and (awfully) played bowling with my friends. I only won the second game thanks to me being the only person to use barriers opps. Without them I would've 100% got 0..
On the 18th of January I held a senior res quiz. I freaked out a little worried that no one would turn up, thankfully people did. I got a little too drunk in viper afterwards.
Girls nights are always the best nights. We had a wine and dance party night on a Tuesday… future wine mums? I think sooo…
On the 23rd of January I went for a girly night out with some of the lovely girls I lived with last year. Turns out like bowling, I am also awful at beer pong. Will I ever find a 'sport' I am good at? Probably not, I will stick to my scrapbooking.
The 25th of jan I met up with Julia an old school friend and had a catch up about life. 
We got physical on the 30th of Jan and had a 80s workout themed social. Primark has some sick neon clothes in at the minute, so managed to find myself a last minute outfit. While also finding some bargains (a £1 skirt… yes please). The dance girls have been so important to my wellbeing this university year, every Wednesday is filled with a lot of love and a lot of fun. They really have become my family away from home and I am incredibly grateful to have met them all this year.
The last day of the month I visited a restaurant called Chakra with my blogger friend Ana (https://fadedspring.co.uk ), we had the most amazing Indian food and spend the whole evening gossiping about life. The perfect end to the month? I think so.
So to end, while anxiety plagued my brain I still managed to live. I had some ups and some downs, some days the bad out weighed the good. However, just because some months bad wins, it just means the next month you have to fight a little harder to make the good win. One thing I know for sure is that anxiety will not rule my life, I will win this fight eventually.
I would love to hear any tips and tricks you have discovered to help you live a little easier, so please do message or comment them. Just remember Jan is the Monday of the year, and so if it was rubbish, its time to make February your best month yet….
As always…
All the love,
Queen Clo xx